Boca Ciega High School


Class Of 1963
In Memory
Betsy Hardin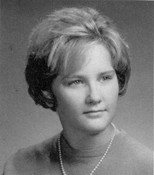 An obituary for Betsy appeared in the Augusta Chronicle, Augusta, GA. as follows:
Mrs. Betsy Hardin Chandler, of Evans, died Saturday, May 2, 1998, at her residence.
The funeral will be at 11 a.m. Monday at Warren Baptist Church with the Rev. Frank S. Page officiating. Burial will be at 1 p.m. Tuesday in Rose Mere Cemetery, Opelika, Ala.
Mrs. Chandler, a native of St. Louis, was a registered hospice nurse. She was a member of Warren Baptist Church, where she was a member of Bible Study Fellowship.
Her family said she was a loving, caring wife, mother, and nurse. She has gone to the mansion He has prepared for her on streets of gold.
Survivors include her husband, Jim L. Chandler; a son, William H. Chandler, Grovetown; and a daughter, Carole Nipper, Greenville, S.C.
Pallbearers will be members of the Cosper Sunday School Class.
Memorials may be made to the Moody Bible Radio Station WLPE 91.7; or to His Radio WAFJ 88.3; or to St. Joseph Hospice Program, 2260 Wrightsboro, Road, Augusta, GA, 30904.
The family will receive friends from 7 to 9 p.m. Today at Thomas L. King Funeral Home, Martinez.